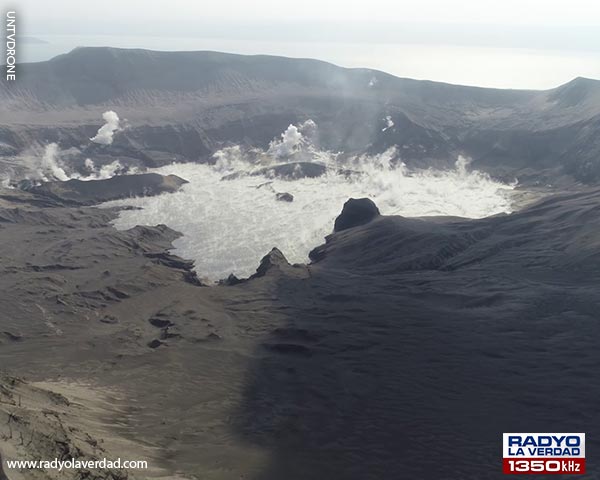 MANILA, Philippines – The Philippine Institute of Volcanology and Seismology (Phivolcs) on Thursday said it has downgraded the alert on Taal Volcano to level 1 following the decrease in volcanic quakes and surface activity at the main crater.
In its bulletin, Phivolcs said the Taal Volcano's condition in the succeeding four weeks after its alert was lowered to level 2, has been characterized by low-level volcanic earthquake activity, stabilizing ground deformation of the Taal Caldera and the Taal Volcano Island edifices, and weak surface activity at the Main Crater and the Daang Kastila fissure.
"DOST-PHIVOLCS is lowering the alert status of Taal Volcano from Alert Level 2 to Alert Level 1 to reflect the overall decreasing trend in the level of monitoring parameters," its bulletin reads.
State volcanologists said that alert level 1 means that the volcano is still in "abnormal condition," and that this "should not be interpreted that unrest has ceased or that the threat of an eruption has disappeared."
Under alert level 1, sudden steam-driven or phreatic explosions, volcanic earthquakes, minor ashfall and lethal accumulations or expulsions of volcanic gas can occur and threaten areas within the Taal Volcano Island.
The alert level may be raised back to alert level 2 "should pronounced change in monitored parameters forewarn of renewed unrest," Phivolcs said.
The agency reminded residents that entry to Taal's permanent danger zone, especially the vicinities of the Main Crater and the Daang Kastila fissure, remains strictly prohibited.
The Taal Volcano was placed under alert level 4 when it spewed ash on January 12 which sent thousands of residents to temporary shelters and disrupted businesses in surrounding areas.
It was later lowered to alert level 2 several weeks later due to decreased unrest. — ROBIE DE GUZMAN
Note: Sourced from Phivolcs Taal information
Tags: PHIVOLCS, TAAL VOLCANO